Diverse and prosperous, Australia is a vibrant country with burgeoning startup ecosystems. Boasting the world's 13th largest economy and the ninth highest per capita income, a solid job market and 26 years without recession; our economic prosperity is the envy of the world.
Australia's startup ecosystems aren't shabby either, we have thousands of early-stage and mature companies scattered across the nation, concentrated on our two largest cities and backed by our innovative mindset, famed ingenuity and give-it-a-go nature.
Here in Victoria, the outlook is even better: our ecosystem is booming. We're well-placed to become one of the world's key startup ecosystems, alongside the heavyweights of Boston, Tel Aviv and Silicon Valley. However, our culture of investing is the polar opposite.
Australian investors are traditionally risk-averse, fuelled by 'safe' investments which have historically delivered strong returns (e.g. property, blue chip retail and mining stock). Investors' unwillingness to invest in early-stage startups is having detrimental effects on our ecosystem's ability to mature and for Australia's abundance of ideas to flourish.
"The future performance of the Victorian and Australian economies depends on how well startups are supported." – Kate Cornick, LaunchVic CEO
Kate Cornick, CEO of Victorian government startup agency LaunchVic, said "We know that scaling startups support jobs creation and economic growth. In fact, LaunchVic research into digital market places released earlier this year shows that online market places founded in Victoria contribute about $1.6bn in profit to the state, employ 13,000 people and create 80,00 indirect jobs."
Investor reluctance impacts not only the economy, but investors themselves. Startup investments have the potential to deliver returns substantially higher than traditional investments. It's also a way to back progress and innovation in an investor's area of passion e.g. supporting impact-driven or female-led businesses.
This hesitation is slowing down the machine. It's a multi-million-dollar windfall that needs filling. Melbourne in particular, a startup ecosystem in its developmental stage, desperately needs an excess of early-stage funding. But why the gap?
Investors are keen to get involved but lack the knowledge, networks and tools to invest with insight.
"Being an investor in Australia's startup scene is like arriving at a barbecue where everyone's speaking French…you want to be a part of the party, but you can't speak the language."
– Daniel Madhavan, Impact Investment Group CEO
While we have a handful of fantastic VC funds: AirTree Ventures, Blackbird Ventures, Square Peg and Rampersand to name a few. And an angel investor community bolstered by major corporate venture funds, there's significant room for improvement. We need
to switch our investment mindset and grow investor capabilities to support ground-breaking new businesses.
As a growing leader in providing high-calibre adult entrepreneurship education, we're doing that here in Victoria with VC Catalyst: our new investor education program.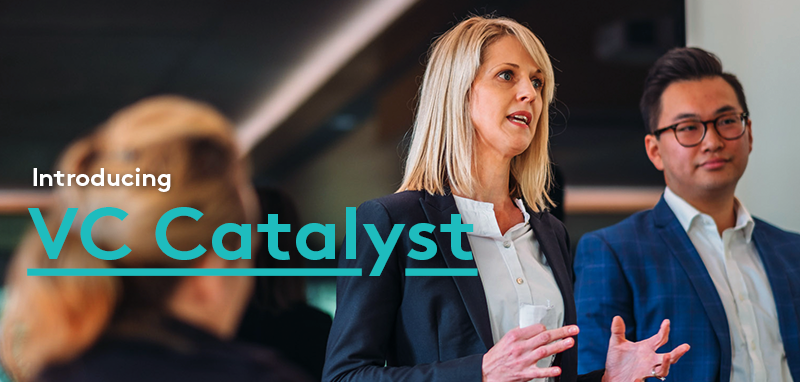 We're educating a new generation of investors with the skills, tools and unrivalled networks to make more successful investment decisions. Whether investors have been burned by startups before, are looking to diversify their portfolio or bolster their in-house VC capabilities, our program powered by LaunchVic will improve their ability to invest with insight.
We have secured an impressive faculty of leading practitioners and experts from Silicon Valley, New York, Asia and Australia. Including Seek.com and Square Peg Founder Paul Bassat, Stanford Entrepreneurship Professor George Foster, Blackbird Ventures Partner Samantha Wong, IBM and Prose Ventures Partner Jules Miller, and Corrs Chambers Westgarth Partner Jonathan Farrer, to name a few.
We pride ourselves on having built one of Australia's most innovative and diverse entrepreneurial networks. VC Catalyst is the next step in extending our impact and raising the level of investor know-how to connect Victorian Capital with really high-quality startups.
Startups are ingrained in our economic future. With an educated investor base, we are well on our way to quadrupling our ecosystem value and supporting founders across the world. We're only just getting started.
---
Wade Institute of Entrepreneurship is a leading centre for entrepreneurial education. We deliver programs to accelerate learning, creation and connection.