A serial entrepreneur, Nick Crocker is currently a Partner at Blackbird Ventures hunting for high-growth-potential startups that can disrupt and transform Australia's economy and standing in the global startup market.
As one of Australia's only three venture capital firms with over $250 millions under management, Blackbird Ventures understands what's at the forefront of game-changing startups – their portfolio includes celebrated design firm Canva. [update: who in early 2018 became Australia's only privately-backed tech startup valued at $1 billion]
Nick came to our campus to give a guest lecture to our class about funding, founders, and failure. Here are four insights from the session.
1. Venture capital is not for most businesses
Nick started his talk with some harsh truths about venture capital. "An interesting thing about venture capital is how inappropriate it is for most businesses. Most founders say that the thing that's holding them back is a lack of money so they seek venture capital, but they don't think about if their business can handle the downward force that type of funding places on you."
The current cache around venture capital disguises the realities of what it takes day-to-day to deliver on the incredible growth demands venture capital places on your business. Venture capital is just one of several forms of funding available to a small business owner. There's a bank loan, angel investors, or money from your fiends/family. "There are plenty of businesses who have never taken a drop of venture capital and run healthy businesses that make them happy."
The nature of venture capital is such that you place a lot of bets on different startups hoping that one of the bets will pay in a big way to cover the cost of all that failed. But there are some opportunities that are so large that venture capital can help them unleash the maximum human potential. "You should come to venture capital with a high degree of scepticism whether it's right for you." Really think about if your business needs that type of funding or has the potential to pay off in the 100x way venture capital needs from you.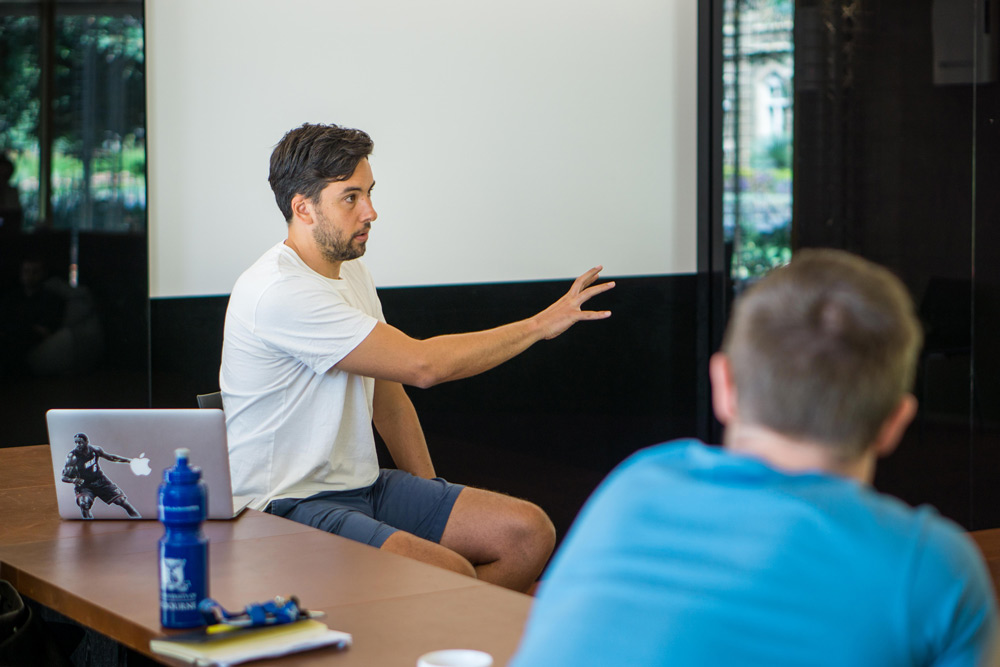 2. You need to be a storyteller
An idea that no one understands or can share is seriously limiting its growth ability. A common trait of the best founders Nick has worked with is their ability to tell a story about their business in 15 seconds that entrances someone.
"The true test of a good story teller is empowering your audience to tell your story in the same way to someone else. If I go away from this and can't explain your business to someone else, then that's your fault. You need to take responsibility for telling your story clearly, concisely, and in a compelling manner."
One of the biggest hurdles in telling your story is feeling like you can never tell the full story "but you can tell one that is authentic and technically true, the test is can I tell my wife."
3. Don't count yourself out before you've even tried
Nick encouraged our students to throw their hat into the ring and take advantage of opportunities that arise. And not to let self-doubt and feeling like you're not ready stop you from putting your hand up or applying for that internship; it's a misguided mindset.
Nick reflected on some of the reasons why people hold themselves back:
I'm not as good as other applicants
I'm not ready to make the most of the opportunity
I don't want to 'waste' their time
"Don't decide for other people whether or not you're good enough to go after an opportunity." You've got nothing to lose but someone saying 'no' so put your hand up and let the receiver do their job in assessing you for the opportunity. Don't count yourself out before you've even gotten on the field.
4. Don't wait till when you need something to start networking
Before Nick joined BlackBird ventures, he had already founded two startups supported by funding from investors. Sessions, a fitness app acquired by MyFitnessPal, and We Are Hunted, a music app acquired by Twitter.
He cultivated genuine relationships with investors from an early stage so when an opportunity came to go in for an 'ask', it feels really organic and the investor knew Nick well enough to know what kind of 'bet' he was making. Nick explained that investors make investments in lines, not dots. Each meeting is a dot, but an investor wants to see your trajectory and if you're capable of achieving your goals and if it aligns with the level of success potential they want to invest in.
"When you meet an investor, you might think 'look at how good my dot is!', but if I met you, I'm unlikely to invest in a dot. But if I see you over ten years and draw ten dots, I can see the trajectory of a line that I want to work with." Reach out to people you want to connect with and offer value without the expectation of an immediate return. Invest in your relationships, and they will grow into future returned-value.
–
Wade Institute of Entrepreneurship is a leading centre for entrepreneurial education. We deliver programs to accelerate learning, creation and connection.