One of the first things any good startup mentor will ask you when you're developing any startup idea is, "Have you tested that?"
It's easy to think that talking about your idea with people is enough to gauge interest, but it's important to debunk assumptions by giving potential customers the chance to explore your offering in a more tangible way so you can truly know if there's a market for your idea. And, before you've spent precious dollars on an idea which doesn't actually solve any real customer problem.
We recommend making a minimum viable product (MVP) or working prototype as soon as you can. It's the most effective way for people to give you clear feedback, and for you to work out whether you should continue, kill the idea, or pivot.
There are many ways you can make an MVP on the cheap, both for products and for services. Here's how some University of Melbourne  Master of Entrepreneurship students tested their ideas without breaking the bank.
Hack #1 – Go DIY style & build your own tech prototype 
Many entrepreneurs make the early mistake of spending loads of time and money building fully fledged tech products before they even know if anyone wants them.
There are loads of simple DIY platforms to help you build web and app MVPs yourself for next to nothing – you don't need to be a web designer or coder to produce something perfectly acceptable to test with the market.
We asked self-professed DIY hacker Hugh Laverty of Wade Inc startups Tyki & Avocardo for the low down on building tech prototypes yourself.
"For mobile websites, I use Webflow. It's like Photoshop for websites, and it's amazing. I'm currently building an MVP for my social media marketing platform Tyki using Webflow – you can link to databases, update in real time, accept payments, build mobile designs, and export flawless code. It's a real game-changer."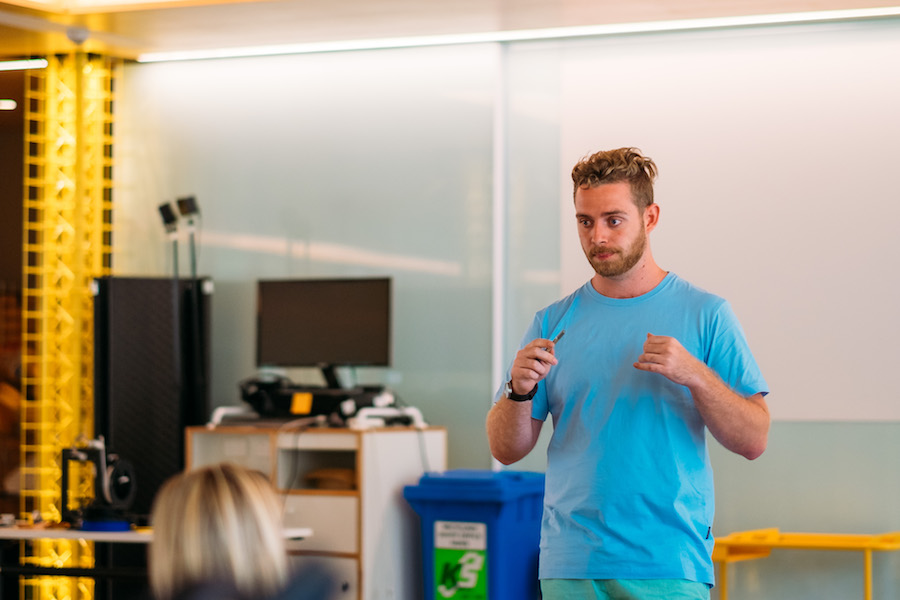 Hugh presents his ideas to class, 2018
Building a mobile app? "It's less easy to do on the cheap, but it can be done. One way is by getting a student copy of Sketch, an industry-standard tool for producing the user-interface for apps and websites. If you're only a little bit handy with design you can build out your entire app experience in as little as a week, with zero code needed.
To turn it into a real mobile app you're going to need to contract a developer or use a tool called Thunkable, where you can build a real app with basic functions like maps, camera, location services, or even in-app payments. Thunkable then exports iOS code that you can submit straight to the App Store with an Apple Developer account. All in all, it'll set you back around $120 – pretty exceptional.
If you just need something fairly basic, you might get away with a white label mobile application. A white label is a generic app someone else has built. For a fee they'll let you put your own content and branding on it to call it yours."
So get stuck in and build a shell of a site/app for users to play with. You'll get richer feedback from focus groups and surveys if participants can road test your tech idea, and you don't have to go broke in the meantime. Win win.
Hack #2 – Get creative & make your physical product yourself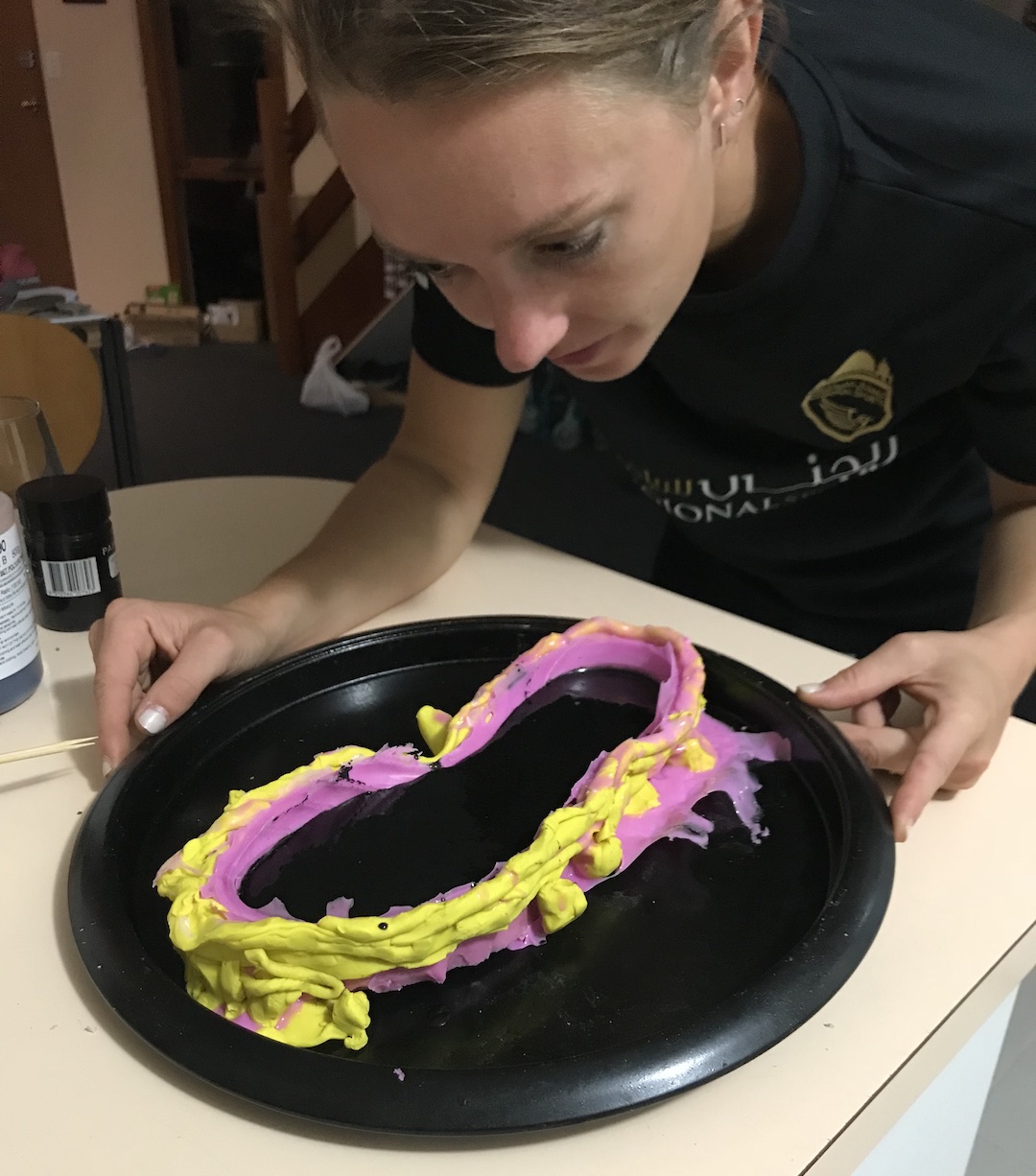 Laura Youngson with her first football boot prototype
If you're developing a startup idea which involves a physical product, making a prototype doesn't have to be as daunting as it may sound. A minimum viable product is just that: minimally viable.
For Laura Youngson, making a soccer boot could have seemed like an impossible task. During her time developing Ida Sports as part of the University of Melbourne's Master of Entrepreneurship program at Wade Institute in 2017, Laura had to get creative to ensure she had something worth testing while trying not to get so hung up on it being perfect.
"I wanted to know how football boots are made so I just ripped apart existing shoes. Then I made the first thermoplastic polyurethane (TPU) sole in my kitchen. We stitched it together with an upper made by a specialist shoemaker in Melbourne, and it worked amazingly. We took the prototype boot to Jordan for our second world record attempt and tested it with professional athletes, who loved it."
[Laura's non-profit initiative Equal Playing Field broke its second world record for the lowest altitude soccer match ever played by the Dead Sea!]
A few years on and Laura is still constantly iterating, using 3D printing and rapid prototyping processes so they can test different aspects of the shoes with athletes.
So if a similar product as yours exists, make it your mission to find out how it's made. Many public spaces like libraries and community centres now have 3D printers you can use, so do some research and get making.
Hack #3 – Test out your service-to-be on Instagram
Sarah Agboola and Yan Ting Choong met during our startup bootcamp. They began tinkering with the idea of a gift service for parents, an idea which they continued to develop as part of The University of Melbourne's Master of Entrepreneurship program at Wade Institute in 2016. In 2019, an iteration of the idea is now a thriving startup called mtime, led by Sarah and killing it with customers, staff, and climbing revenue.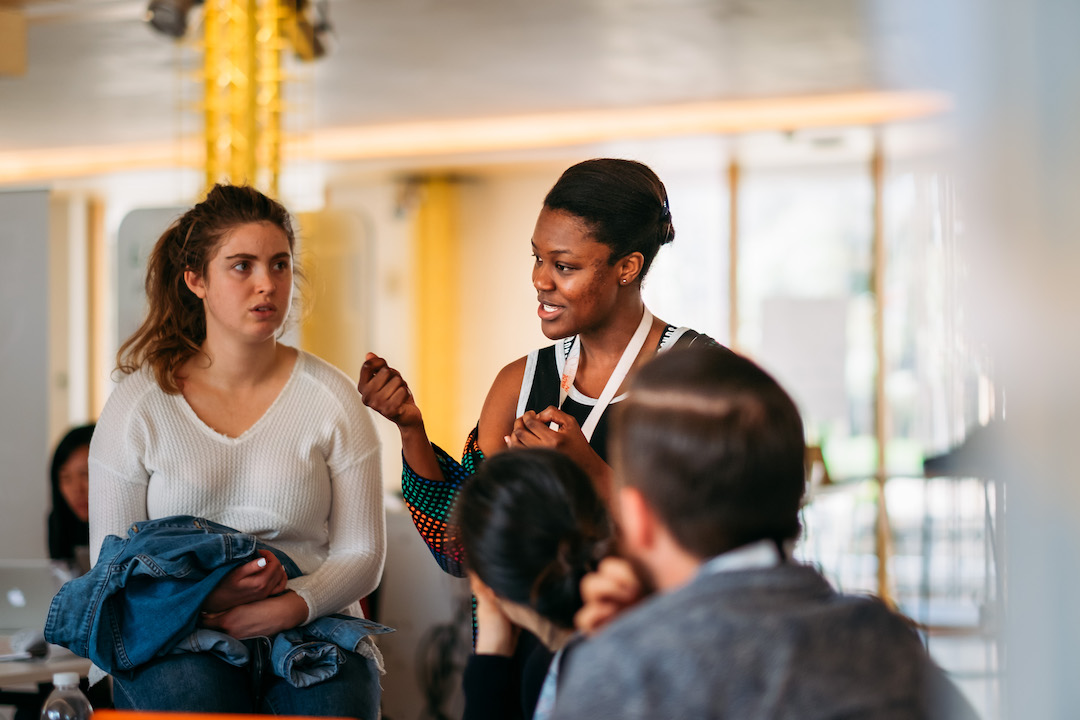 Sarah Agboola mentoring at our startup bootcamp weekend, 2017
Sarah took us back to the early prototyping phase, a process which helped reveal a true problem and shape the route of mtime's success.
"A mentor pointed out that all we had done was tell people about our idea but hadn't actually done anything to create a business. So we made an Instagram, filled it with stock images, made a very basic WordPress site and charged $50 to try a 'care package' or 'pamper package'. We sold 5 of the packages in a day or so before realising how under-priced they were. We put the price up and demand was much the same, so we capped it at 10.
We actually discovered that the idea wasn't worth pursuing. I don't think anyone who tested that iteration of our idea said they would buy it again, but they all said they'd buy it as a gift for a friend. Instead, we discovered a different problem: parents needed ongoing help, not just a one-off treat. There wasn't a service that was designed specifically for them – nannies are for kids, and cleaners just clean – so we ditched the gift component and tested a 'personal assistance for parents' idea. That idea stuck, and almost two years in we're still iterating every day."
The special ingredient of the gift trials: all those who bought the service on Instagram agreed to be interviewed. These extensive feedback sessions gave Sarah and Ting the customer insights they needed to change course, a move which continues to pay off.
Social media can be the ticket to getting your idea out there beyond your friendship circles, so set up your profile and get selling!
There you have it, some hacks to get your idea out of your brain or off the page and into the hands of those who can help you solve the next great problem.
What are your tips for DIY MVPs? We'd love to hear about them.
---
Wade Institute of Entrepreneurship is a leading centre for entrepreneurial education. We deliver programs to accelerate learning, creation and connection.