As an accomplished entrepreneur with a background in marketing and business management, Michael Pratt is committed to using his skills and experience to help train a new generation of smart, innovative minds.

Michael teaches into the University of Melbourne's Master of Entrepreneurship here at Wade Institute. He leads Garage Project, a subject he describes as the 'first touch' students have with becoming an entrepreneur.
"I basically teach what processes do you go through when you have an idea; how you determine if that idea can be turned into a company, and all the various things you have to do to validate whether or not your idea is any good."
We spoke with Michael about his entrepreneurial journey and how his experiences have shaped his teaching today.

Drawing on an impressive toolbox of global tricks
Graduating with a finance degree from North Carolina, Michael started out his career in public accounting. He then returned to school to gain two additional degrees: an MBA from Massey University in New Zealand, and a Master of Marketing from The Johns Hopkins University in Baltimore, Maryland in the US.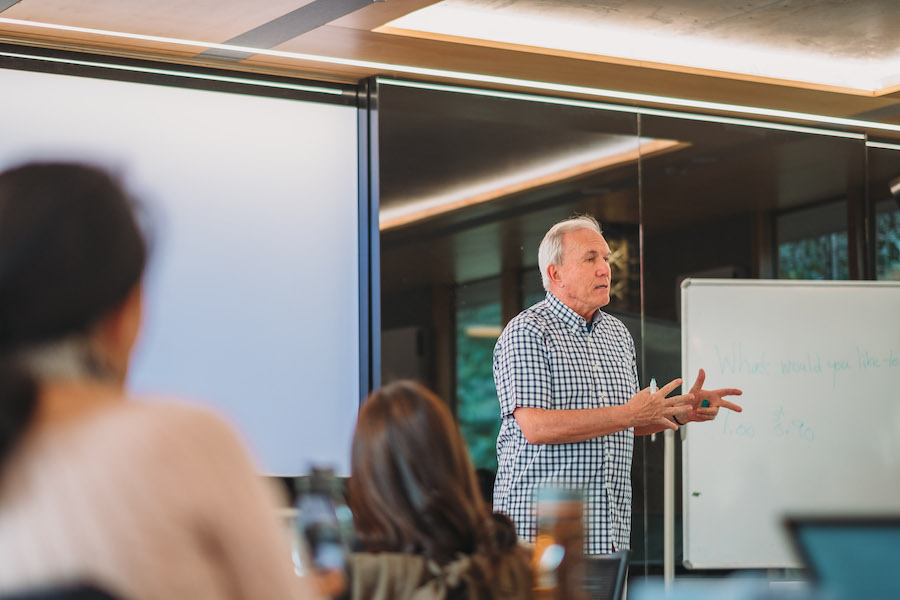 Then he worked for Mobil Oil for sixteen years, and as Area Coordinator was posted to the Middle East, Africa and New Zealand. "You learn a lot when you work as an expatriate," he says, "When you're in a foreign country and you have 150 people reporting to you, it's a whole different kind of outlook on life."
After being posted back to the US in 1996, Michael began his own journey with entrepreneurship, spanning sixteen years and eighteen different companies. He is now working with the University of Melbourne and the University of Maryland (online), lecturing in capitalist skills and development.
Learning entrepreneurship is all in 'the process of doing'
Michael is a firm believer in preparing students for the 'real world' of entrepreneurship. "The Garage Project subject requires the students to talk to a lot of their prospective customers. They have to either call them up or meet with them in person and ask them questions about what they're developing. They have to ask, 'What problems do you have that I can solve? Is my idea something you would actually buy and use?' and from there they either validate their idea or 'pivot' and change to a different model."
"I'm trying to teach them what you do when you have a real idea you want to pursue and what steps you need to follow. The ultimate goal is to get students to understand the process of validating an idea and be able to take it to a point where they know if they can actually work on that idea with the structures of a real company."
Patience, entrepreneurs – don't take money before you need to
With five exits throughout his entrepreneurial career, Michael has certainly seen the highs and lows of the startup world. He likes to tell all of his Master of Entrepreneurship students, "the longer you can go without taking anyone else's money as an investment, the better off you'll be."
"If you can bootstrap your idea to a point where you have a working prototype and a couple of companies interested, then you're in a much better position to go and talk an investor because your valuation will be higher. The sooner you take the investor's cash, the lower valuation you will get and the more of your company you have to give away for the same amount of money."
These kinds of insights are just what Master of Entrepreneurship students need at this early stage in their entrepreneurship journey. Timing, knowing when to brake and when to go, and how and when to raise funding – these are all vital lessons for students, especially as they embark on turning ideas into action.
Michael's varied expertise, extensive lived experience of entrepreneurship and hands-on, interactive teaching style is a powerhouse ensemble of skills and knowledge that students can learn so much from.
---
Wade Institute of Entrepreneurship is a leading centre for entrepreneurial education. We deliver programs to accelerate learning, creation and connection.