Warren Rudd left his established career in finance to pursue a burgeoning passion to make something of his own.
After years in the corporate world, including a stint at an international manufacturing company during the global financial crisis and relocating overseas twice, it was time.
Hear how Warren came to be part of the 2018 University of Melbourne Master of Entrepreneurship cohort, here at Wade Institute.
A born businessman takes a different path

South African born and raised, Warren spent a lot of his childhood living abroad with his family, due to his corporate executive father's numerous overseas postings. His father's stories sparked Warren's passion for business early on, and he studied commerce and accounting at university as his way in. "I wanted to work for myself, and to go and get experience in the business world, I thought the best way to do it was through accounting. The intention was never to be an accountant forever."
But life had other plans. Warren moved to London and began working as an accountant in public practice before landing a finance role at Ford Motor Company. Nine months after he joined Ford, the global financial crisis (GFC) happened.
"The GFC was a real eye opener for me. It was all about survival. Ford was the only one of the three US car manufacturers that didn't file for chapter 11 bankruptcy."
Working during that period at one of the biggest car manufacturing companies was stressful and sure took its toll, but Warren says he got a lot from the experience. "The job became about identifying opportunities – really trying to work out where you can make savings, where you can be more efficient. It was an immense amount of pressure, but I learned some really good skills for how to get through tough periods."
Making the change to entrepreneurship
After ten years in the UK, Warren and his now wife felt it was time for a new challenge. They made the move to Australia, and Warren continued with finance, working in large organisations such as Crown and Merlin Entertainments. But another few years went by and he still hadn't found the right time to jump off the corporate hamster wheel.
"The difficulty is that you kind of get stuck. You are good at the work, you enjoy it, you earn a decent salary, go on nice holidays, treat yourself a little. It's easy to forget what you really wanted to do to begin with."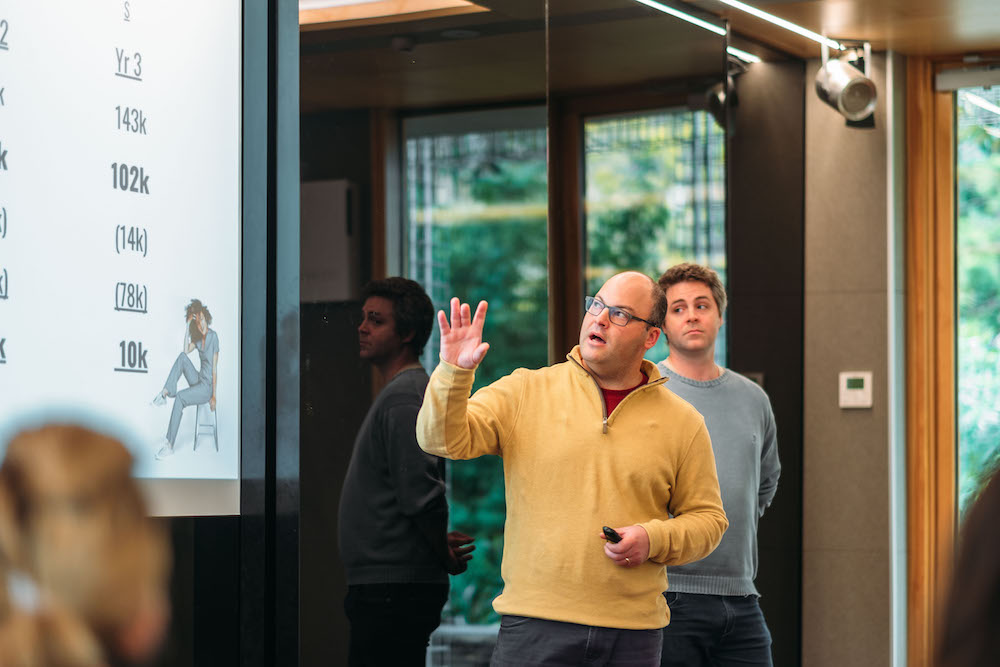 Then, Warren discovered the University of Melbourne's Master of Entrepreneurship in 2017. "I was starting to think about branching out on my own or up-skilling and doing more technical accounting. It was a discussion between my wife and I. I wanted to progress, to make sure I was still relevant."
After doing his research and attending a few events at the Wade Institute, Warren knew it was the place for him and enrolled in the program. "I always wanted to feel like I'd created something. Being able to look back and go, 'Wow. Look what I've been able to accomplish'. When I found Wade it sort of reignited a spark. It was exactly what I was looking for. I don't really know why I didn't do it sooner."
The advantages of the long road
As the saying goes, it's better late than never. Warren agrees. "For me, it's actually been quite a good thing to go out, get some experience and have a career before coming to Wade. I can relate to the examples, what we're being taught and why it's so important."
Warren is a stickler for detail; he loves getting down into the nuts and bolts of business. But studying entrepreneurship is teaching him to grow in new ways.
"I'm learning a lot about how to not be so single-minded on one approach, to be open to different perspectives. The way some people think is very different to how I do. Sometimes I can think, why are you thinking like that? But then it's like 'oh, that's really quite clever, how did I miss that?"
True to form, Warren is finding ways to apply his skills and experience in finance and manufacturing to his work in the startup world. As part of the Master of Entrepreneurship, Warren is working in a team exploring FinTech ideas for helping small businesses manage their cashflow better. Beyond the program, he's developing a curved concrete product with a team at Translating Research at Melbourne (TRaM).
For us, Warren's new-found direction is right on the money. We can't wait to see where it takes him.
Update: Warren's awesome pitch won him the grand $10K prize at our Showcase Pitch Night. Read more
–
Wade Institute of Entrepreneurship is a leading centre for entrepreneurial education. We deliver programs to accelerate learning, creation and connection.