An entrepreneurial spark can strike when you least expect it. For Margie Moroney, it was at age 52 when, after spending her years working as an investment banker she decided to embark on fitting the next piece of the jigsaw puzzle in place. She recent came to our campus to give a guest lecture about her lessons learned.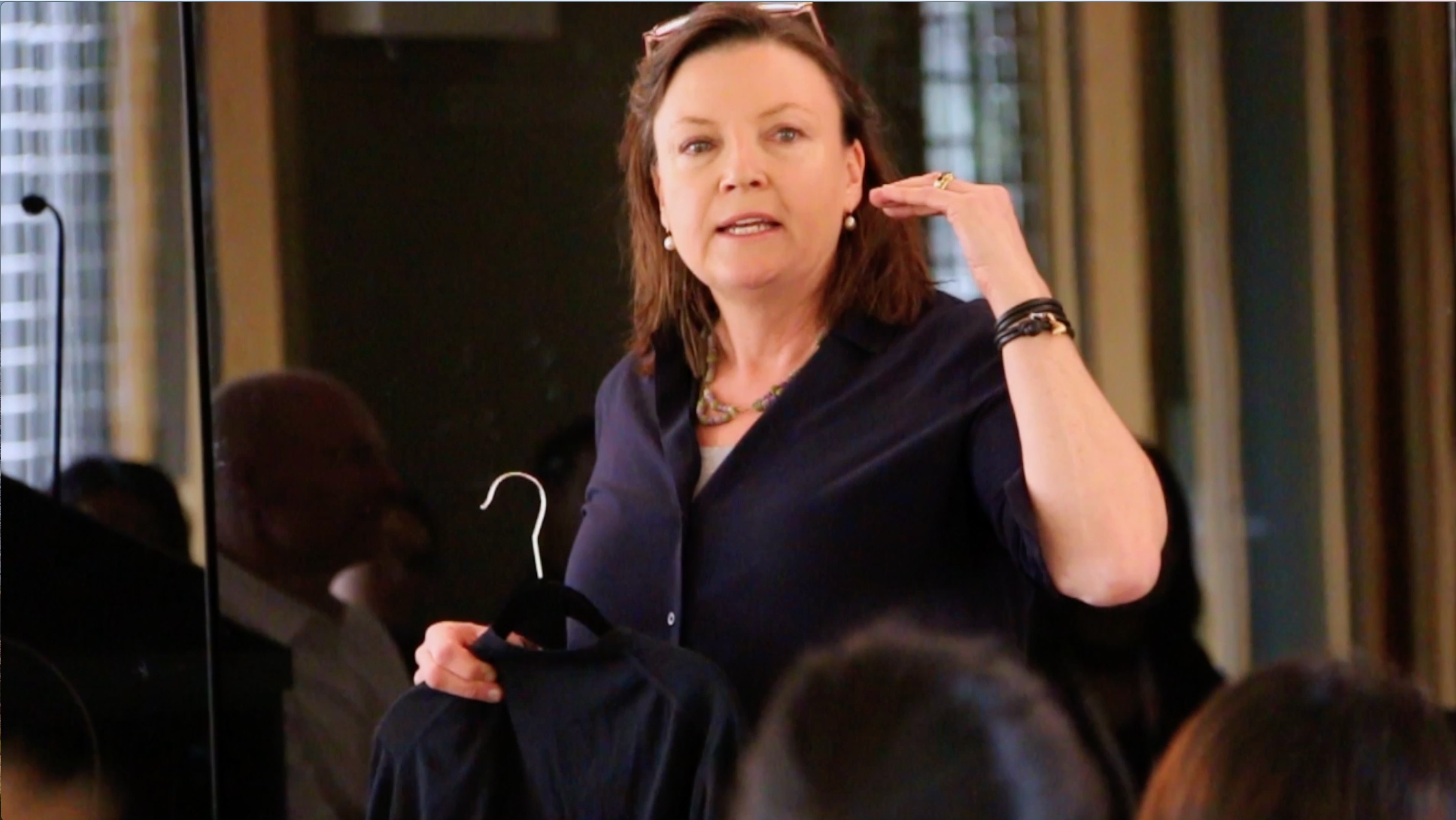 The best ideas are close to home
Driven by a wealth of knowledge in agriculture and a desire to bring the wool market a product it so desperately lacked, Margie founded HOLOS Luxury Knitwear in 2012 as a solution to seeking out luxury wools in the fashion industry that bridges the gap between standard wool and cashmere.
Her years of working on the numbers side of various agricultural projects allowed Margie to identify the prospect of developing a market for merino wool which is rarer and more luxurious than cashmere. It all came down to the thought that, in this crowded world, there is always an opportunity to go tap into something new and unchartered.
"I liked the idea of going beyond the normal stuff – there's always room for someone to go narrow and deep. All it takes is for someone to look finely into an industry and do something different with it."
Margie's idea was driven by her desire to deliver a product that would sell itself once it gained the right kind of exposure. She held on to this idea for 25 years, following which she delved deep and made her move.
Know your compass
Margie's long held passion for agriculture and her experience in agribusiness put her in good stead to formulate a set of business guidelines that would not only thrive in the market but create social good. The focus was drawn from a mindfulness of social finance – where profit is not the only goal.
"If social finance had been around when I'd been at uni – I would have followed that path. I liked the thought of being able to set up a business that generated enough profits to run itself, but it also generated a social good. By being slightly less greedy in your returns, you can also generate a 'blended' social return. I thought – here it is! Here's the thing I've been looking for – it's literacy, numeracy and ethics all in one."
Margie's enterprise made enough profit to run itself, starting out selling to a 'natural network' of family and friends, before moving on to a larger market. Here, their emphasis was on quality. Having a lower profit margin made their price more competitive and created brand trust.
Invest in the customer over the long term
"There's a lot of disenchantment from high-end brands that overpromise and don't deliver. We've found that by cutting those big margins, we become closer to our customers and deliver a more authentic product. Customers can smell inauthenticity."
Margie's answer: do the right thing, because it's the right thing – not just because of the consequences. Strong, tangible ethics go a long way.
Quality falls at the crux of Margie's business model. As such, the line offers a repairs and maintenance service to ensure the longevity of HOLOS products. They work closely with farmers and manufacturing partners, creating valuable and loyal relationships along the way.
"We want to treat our consumers as partners, not as adversaries. We're in this for the long gain – with every sale you learn something about your product, about your market and about your customers."
The most successful entrepreneurs ask for help
Margie reveals that the ideal qualities in an entrepreneur are creativity, efficient communication and being well equipped with a tool kit for handling issues as they arise. However, there's only so far you can go on your own. There's no denying that the startup world can get very hectic very quickly, and according to Margie, bringing in the troops to help out when you reach your limits and offer a different set of skills to complement your own is essential.
While Margie knows the merino wool game like the back of her hand and could do the finances in her sleep, she's recruited a sales executive to provide a fresh take on marketing the luxury merino wool to its full potential.
"About two years in to the process, after a few trips to Italy and a lot of fun making the product – I had a breakdown. I was sitting at my best friend's house and burst into tears saying, 'I hate selling!' It was my husband who snapped me out of it, telling me that yes, selling was hard but I loved telling people about things that I was passionate about and things I believed in."
While she's surrounded herself with people who compliment her skills, Margie has overcome the barriers that every introvert faces and come out on top. "All my research taught me that regardless of whether there are tasks that make you uncomfortable – do them anyway."
For Margie Moroney, her path to entrepreneurship was all about courage. "The rest you can find, but courage is essential. For me – it was an incremental road towards courage."
She's living proof that no matter the age or stage, it's never too late to start and if you hold on to a dream for long enough, it will manifest itself in a passion worth acting on.
Learn more about HOLOS Luxury Knitwear.
Cover photo credit: HOLOS Luxury Knitwear
–
Wade Institute of Entrepreneurship is a leading centre for entrepreneurial education. We deliver programs to accelerate learning, creation and connection.