The next generation OZ entrepreneurs left everything they had out on the stage to pitch their startups, competing for $20,000 in cash and prizes.
From HealthTech to Apparel to RegTech, the University of Melbourne's Master of Entrepreneurship students showed that the entrepreneurial drive is strong and our next generation of talent want to solve problems across a wide range of markets.
Pitching in front of a full house of movers & shakers, the pitches were judged by an exceptional panel of entrepreneurs, intrapreneurs and investors:
• Peter Wade, Benefactor & Entrepreneur
• Shane Galligan, Managing Director Private Banking – Credit Suisse
• Kate Cornick, CEO – LaunchVic
• Nick Crocker, Partner – Blackbird Ventures
• Georgia Beattie, CEO – Startup Victoria
And the winners were….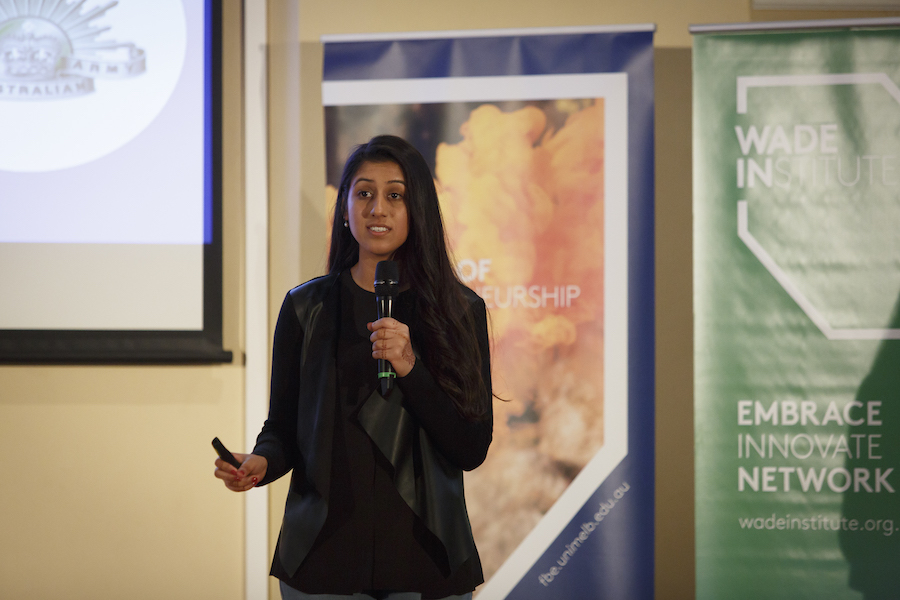 'Best Startup Pitch' Award – $10,000 Credit Suisse & $10,000 Creative Innovation Scholarship Winner
Skip Labs: reporting software for workplace sexual harassment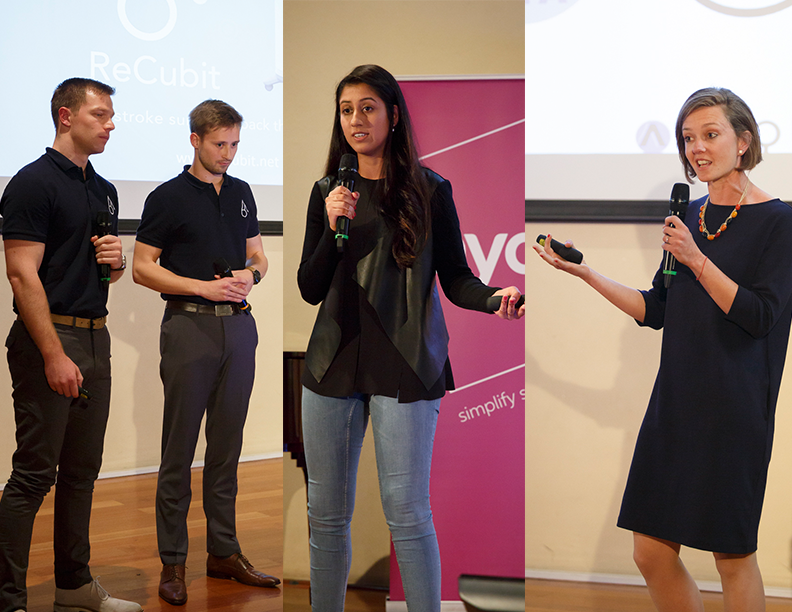 MYOB People's Choice Awards
1st place: ReCubit
2nd place: Skip Labs
3rd place: Sequel
The University of Melbourne's Master of Entrepreneurship is an industry-leading one year degree that provides the knowledge and skills needed to launch innovative new businesses or successfully commercialise products and services.
Here are all 8 teams presenting teams:
Anothen Herbals: Anothen delivers the nest herbal products based on generations-old secret family recipes from a long lineage of Traditional Chinese Medicine practitioners. Our initial product Kognitea has remarkable health benefits backed by western scientific research. It offers a paradigm shift in TCM remedies, as the products are easy to prepare, offered over-the-counter and taste delicious!
Team: Joanna Yan, Melissa Tenggara
Contact: anothenherbals.com / +61 4040 886 978 
/ info@anothenherbals.com
Eat Play Lunch: Eat Play Lunch delivers nutritionally balanced lunch boxes directly to participating schools. Our subscription model allows time poor, health conscious parents to consistently provide their children with a whole school days' food that supports learning and play. We work with schools to bring the best of modern food delivery to growing, hungry kids across Australia.
Team: Freya Berwick, Keely Malady
Contact: eatplaylunch.com / info@eatplaylunch.com
Fussy Foodies: Fussy Foodies delivers meal-kits, recipes and expert events designed for people with food intolerances. Starting with dietician approved low FODMAP and gluten free recipes, we are creating a more enjoyable dinner without the worry of getting sick. Our strategic partnerships have already delivered to our first paying customers.
Team: Leanora Collett
Contact: fussyfoodies.com.au / @fussyfoodies
Sense Of Self (S.O.S): Sense Of Self (S.O.S) is an immersive wellness centre that combines bathing, body treatments and mindfulness practices. S.O.S turns the day spa experience on its head by using artful design and clever technology to create a more powerful customer experience.
Team: Mary Minas, Freya Berwick
Contact: sos-senseofself.com / info@sos-senseofself.com
Sequel: Sequel is an authentic female sports brand that creates performance footwear for women playing soccer and AFL. We make custom-fit, premium quality shoes so you can bring your best game every time. We also invest profits back into women's sports to develop the next generation. Why compromise your talent?
Team: Laura Youngson
Contact: equalplaying eld.com/sequel
Shiftsimple: Shiftsimple helps childcare centres manage their casual educators more effciently, reducing payroll costs and ensuring compliance. In this $12 billion industry, our automated solution removes the stress and hours wasted in finding relief educators every day.
Team: Daarshinie Nadarajan, Kassar Taleb
Contact: shiftsimple.com.au / info@shiftsimple.com
Skip Labs: Today, more than 80% of sexual harassment incidents in the workplace go unreported. This is why we founded Skip Labs. We have created a beautifully designed reporting software that collects information, guides organisations through research backed processes and actions, resulting in positive outcomes. Together we can create an equal world.
Team: Sakshi Thakur
Contact: skiplabs.com / sakshi@skiplabs.com
ReCubit: ReCubit is a robotic therapy aid that assists therapists in delivering higher levels of stroke rehabilitation. Currently, the 470,000+ Australians living with the impact of stroke do not receive enough physical therapy, resulting in lower patient outcomes. ReCubit aims to change this and give them back their independence.
Team: Andrew Rowse, Maarten Van Gorp
Contact: recubit.net
/ rowse.andrew@gmail.com / maarten.van.gorp1@gmail.com
For any media enquiries, please contact us at enquiries@wadeinsitute.org.au
–
Wade Institute of Entrepreneurship is a leading centre for entrepreneurial education. We deliver programs to accelerate learning, creation and connection.