Australia needs more and better entrepreneurs to create the jobs and opportunities of tomorrow. But starting a business isn't enough, we need our entrepreneurs to succeed. At Wade Institute of Entrepreneurship, we want to create those entrepreneurs who can convert ideas into transformational, value-generating enterprises that will redefine our economy.
Our industry partnerships are mission critical to ensure that high-potential individuals have access to cutting-edge entrepreneurship education. The scholarships provided by our partners enable ambitious and aspiring founders who are ready to back themselves, take risks, and combine rigor with creativity, to dedicate a year to study The University of Melbourne's Master of Entrepreneurship – a year of experimentation, collaboration, and rigorous learning.
But it's not only financial support that our valued industry sponsors provide. It's the mentorship and access to corporate networks that makes this a true partnership between Wade Institute, Industry, and students. This level of support for entrepreneurs from some of Australia's biggest brands and individuals at the tops of their fields, reinforces the importance of the startup ecosystem to the Australian business sector.
Here we'd like to introduce you to the 2017 scholarship recipients who are using their diverse skill-sets and experience to have a disproportionate difference on the world.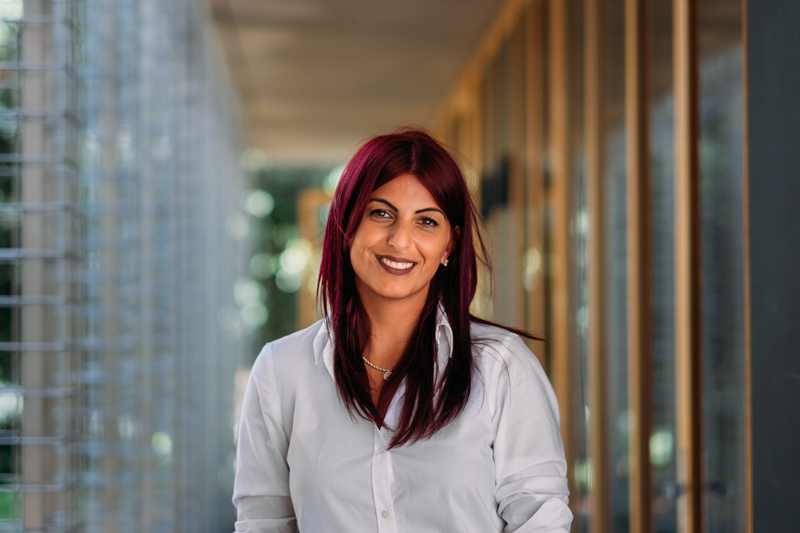 Kassar Taleb, Australia Post Scholarship Recipient
Prior education: Bachelor of Education
Why study entrepreneurship?
Four years ago I started my own Family Day Care business that now employs approximately 140 people. Top of the Class provides the highest standard of family day care for children between the ages of birth and 13 years, and supports women from Culturally and Linguistically Diverse (CALD) backgrounds.
I did it with no networks or expert business knowledge; just grit and determination. It's success that I'm proud of but it has been a challenging journey and I've learned there are smarter ways to build a business.
Now, I'm ready to expand my business and integrate a technology capability to manage a mobile workforce, and I want to do it more effectively. I know I need to learn business fundamentals, as well as newer concepts like design thinking, and develop a diverse network of people who can guide me.
I want to be able to go further and build faster – a year dedicated to accelerating my learning and building a new network. The Master of Entrepreneurship is my year to focus on my development and take my business ideas to the next level.
I also want to create a social enterprise that improves the lives of young children and their families experiencing trauma in Victoria due to domestic violence and homelessness. I want to give these children play experiences that allow them to be themselves for a few hours each week. As well as helping their families succeed by providing high-quality early education and time to take classes, secure permanent housing and some 'respite' time to just enjoy a much-needed break.
Why this scholarship is important to me.
This scholarship will help me fulfill my own aspirations, but more importantly it will help me create a social enterprise to support our communities, particularly women.
Given the influential role women play in our family's and children's lives, I want to create programs that will empower and educate them, having a ripple effect on the broader community. Australia Post's scholarship is a gift that will keep on giving.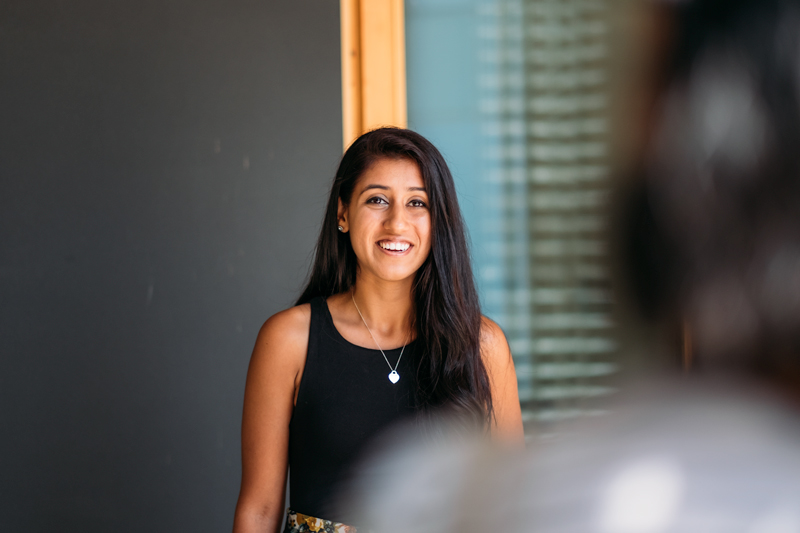 Sakshi Thakur, Credit Suisse Scholarship Recipient
Prior education: Bachelor of Biomedical Science/Commerce (Monash University)
Why study entrepreneurship?
Graduating with a Biomedical and Commerce degree, being exposed to the complexities of medical research in neonatal units and working at an incredible professional services firm in the finance industry, have collectively been the pinnacles of my life.
These experiences might seem contrary, but they've shaped my values and intrinsic need to create solutions for the gaps and problems I think exist today, through the opportunities I have the privilege of being exposed to. I am part of a market with only 10 female CEO's in the ASX 200 at the end of 2016, and an industry with constant discussions around gender balance on boards.
This is the problem I think exists, which I'm still dissecting the root causes of. I do believe that if everyone, female and male, are empowered enough to courageously chase their dreams despite the obstacles they think they may face, we can erode this problem.
So here I am striving to be an entrepreneur to ultimately empower and inspire other women and young professionals to make that dream a reality in the hope to see a day where gender equity and equality aren't social issues anymore.
For many female millennials, even those who studied a finance related degree in university, managing their finances can be an overwhelming experience. I want to develop the right technological platform, workshops, and content, to help the generation to have healthier relationships with money, which translates into achieving their personal and professional goals. I hope my entrepreneurial journey can be a platform for future generations to use as evidence that every hurdle can be jumped.
Why this scholarship is important to me.
Having Credit Suisse support me through my entrepreneurial journey is vital for the problem I'm trying to solve, as they understand the intricate role of technology within the financial industry at a global scale. As an internationally well-renowned financial service company, they do a lot more than just deal with 'money'.
They've been contributing and researching the role of women in finance for numerous years which has been motivating and reassuring that this is a problem worth solving.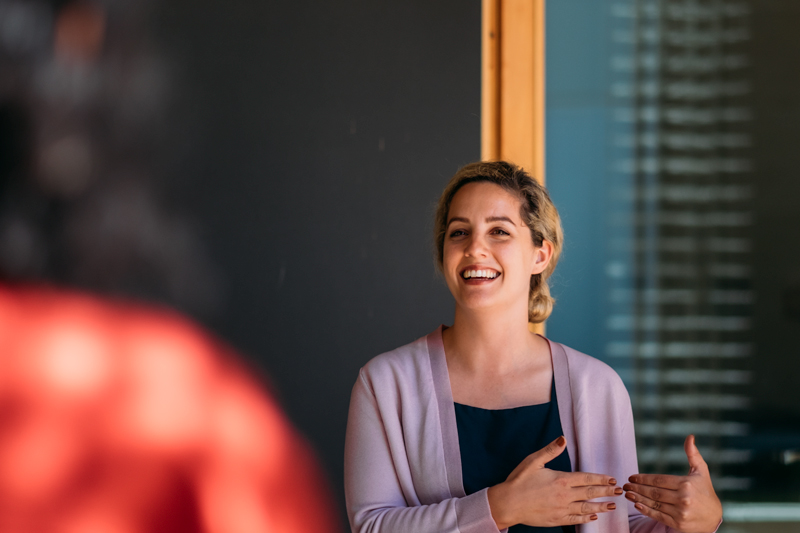 Mary Minas, Corrs Chambers Westgarth Scholarship Recipient
Prior education: Bachelor of Film and Television (Honours) (Swinburne University)
Why study entrepreneurship?
I've spent the last 10 years in the film industry, developing my skills and achieving milestones of which I'm really proud – such as releasing a debut feature film, producing short films with some of Australia's most exciting young writer/directors, working with Ridley Scott's acclaimed production company in London.
However, recently I've been excited about what's occurring on the fringe of film, such as augmented reality and virtual reality, as well as disciplines completely outside of the screen industry.
And now, I've reached a place in my career where I want to be pushed beyond what feels comfortable. I want to use this year of discovery and learning to find the ideas and problems at the intersection of my skills, interests, and market needs.
I suppose there's a mixture of my own internal forces, personal evolution, and external world forces like significant problems to solve, that have urged me to throw myself into a new and exciting challenge that will help me discover the next phase of my life and career.
The Master of Entrepreneurship is my chance to put myself in a new environment with challenging ideas and diverse people, and find a way to have a deeper impact on the community.
Why this scholarship is important to me.
This scholarship is important to me because the team at Corrs Chambers Westgarth operate at the forefront of industries that are set to shape our futures, such as robotics, virtual reality and renewables.
As a film producer and emerging entrepreneur, the opportunity to work with the talented people at Corrs is a privilege.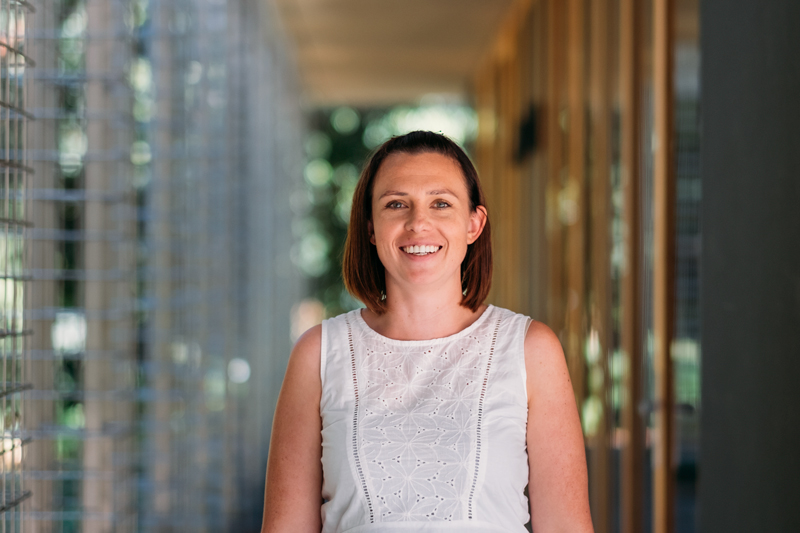 Melanie Williams, MYOB Scholarship Recipient
Prior education: PhD Medicine, Dentistry & Health Services (The University of Melbourne), Bachelor of Science (The University of Melbourne) 
Why study entrepreneurship?
I want to build on the specialist knowledge I gained through my PhD in the medical sciences, as well as several years working in both medical research and healthcare, to solve important healthcare and societal problems that will improve the lives of our communities.
My expertise and interests lie in the field of microbiology and how microorganisms affect human health, such as by causing infectious diseases and how the human microbiome (the population of microorganisms that inhabit the human body) contributes to health. Together with my first-hand knowledge of the pathology (diagnostic) system, I'm in the perfect position to tackle problems relating to the diagnosis and monitoring of infectious diseases and leveraging the microbiome to treat disease.
Currently, there are significant advances in sensor technology that will enable infections and microorganism populations to be detected by gases (e.g. breath) and will enable real-time data collection for monitoring health. I see potential for innovation in this area.
Beyond this I see a lot of opportunity to commercialise my science knowledge into a business that also addresses the lack of pathways for women to excel in STEM.
By studying the Masters and being part of The University of Melbourne science, research, and innovation community, I can translate my skills into a commercial business that creates profit for purpose.
Why is this scholarship important to me?
Having the support of MYOB is really allowing me to fully commit to learning as much as I can this year and focus on developing my start-up and the opportunities in front of me this year.
I'm also excited to work with MYOB because they have such an interesting entrepreneurial story themselves. They show how a simple business idea can be built into a large successful company that offers value to its customers and its community – like their great initiatives addressing gender equality. I want to learn from their teams and how they built high-performance teams.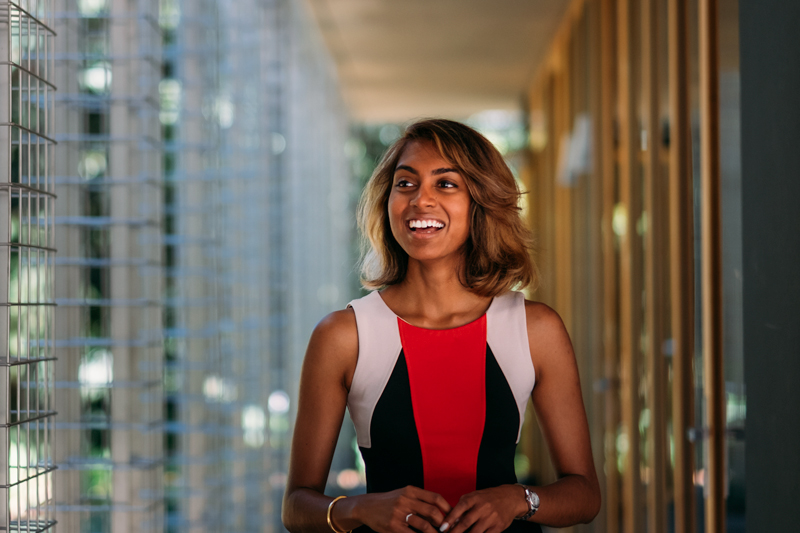 Daarshinie Nadarajan, Naomi Milgrom Female Entrepreneur Scholarship Recipient
Prior education: Master of International Business (The University of Melbourne), Bachelor of Economics (Monash University)
Why study entrepreneurship?
Over 17% of Australians are excluded from accessing mainstream banking services. The current design of financial products makes them unaffordable and inappropriate. This is particularly limiting for women so I want to remove the structural barriers that stop women from participating in the market economy.
I want to use technology to solve this problem and give women more control over their financial health. I know that I can do that best by working in a community of other passionate, curious, and experienced people who can guide me to identify, validate, and build my idea. The Master of Entrepreneurship can help me do that faster than I could on my own.
After a couple years of corporate work experience, I'm ready to throw myself into a venture where I can really stretch my skills and capacity; and learn by doing on my own, rather than doing for someone else.
Why this scholarship is important to me.
I think it is such a privilege that another strong and accomplished woman like Naomi Milgrom recognised the need for financial accessibility as a means to reduce gender inequality in Australia. I also feel that if I've already found one person who believes in my passion, it's probably not such a bad idea.
Also, choosing to come back to do another degree rather than getting a full-time job after Business School was not an easy decision. This scholarship gave me the financial ability to work on my passion now full time and was a crucial factor in my decision to join Wade.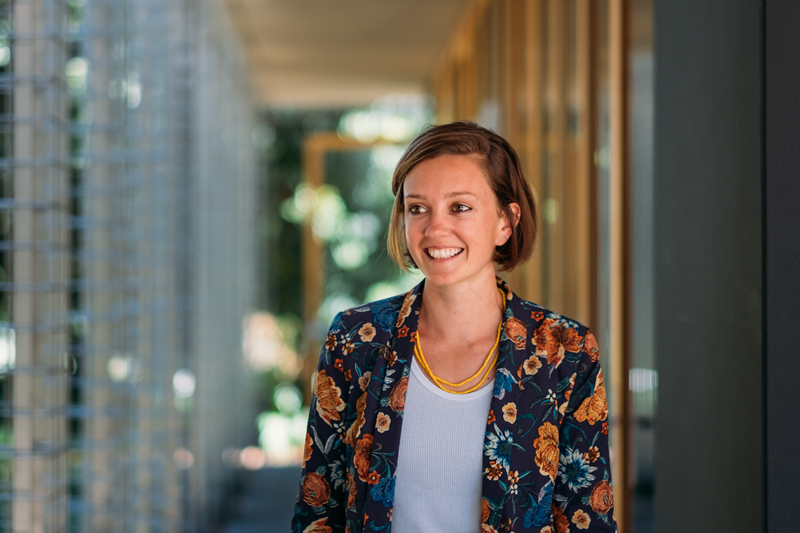 Laura Youngson, Impact Entrepreneurship Scholarship Recipient
Prior education: Master of Science – Physics (Durham University)
Why study entrepreneurship?
After several years running social enterprises and micro-businesses alongside an international management career in Government and private sector, I'm now ready to take a more intensive approach to developing my own enterprise.
Having worked all over the world (Brazil, Mozambique, Azerbaijan, UAE) with NGO's, not-for-profit's, government agencies and social enterprises, I'm incredibly driven to address some of the most challenging problems of our generation such as climate change, unemployment, and
skills shortages.
I've brought many of my social and environmental ideas to life before, but now I want to focus my skills and knowledge to develop an innovative and profitable business fit for the 21st century, built on strong sense of purpose, values and business acumen.
Previously, I was the General Manager of a hospitality business in remote Mozambique and gained a vital understanding of cash flow, planning and logistics in a difficult environment. I also set up and ran an NGO in Ghana focusing on the provision of quality science education. I see a lot of opportunity for my science skills and passion to have a positive impact on communities and problems that need our attention. The structure and guidance of a program, such as the Master of Entrepreneurship is helping me bring my ideas to life on a steady and scalable commercial foundation.
Why this scholarship is important to me.
Amanda Coote's scholarship enables me to dive fully into the program and immerse myself in the network of ideas, people and impact. I can work to develop myself and become the best business leader I can be.
It's invaluable to have the support of an entrepreneur who has been through the business cycle before and can provide real world advice along the journey.
–
Wade Institute of Entrepreneurship is a leading centre for entrepreneurial education. We deliver programs to accelerate learning, creation and connection.