Ishani Chattopadhyay, founder of Sacred Fig and most recently Head of Business Development and Programs at The Difference Incubator, and the newest Master of Entrepreneurship mentor, tells us how the need to do good compelled her to change businesses across the globe.
Business was originally created for good
"If you explore the origins of business, it was used as a vehicle to do good" – to give someone what they needed or wanted in exchange for something else. This commercial activity was a way for us to solve our problems and improve lives with better services, products and systems in place. There is a basic equation of inclusiveness that inherently should exist in a business.
"Entrepreneurship is all about problem solving for me," and with a degree in Chemical Engineering at The University of Melbourne, Ishani discovered her love for solving problems, and her first few years as a management consultant helped her hone in on that skill. But after the events of 9/11 she found herself in the middle of a basic breakdown of culture and everything that held it together. A radical shift in career was needed, as problems were everywhere and it was ripe for disruption. An MBA at London Business School and an exchange at Columbia Business School, New York provided her the frameworks of what that change could look like.
At the same time Ishani read John Elkington's book 'Cannibals with Forks' where he pioneered the triple bottom line concept for the 21st century. Elkington aimed to harmonize the traditional financial bottom line with environmental quality and social justice. She pitched to him and scored an internship, this would then go on to build a strong foundation for her work in social enterprise and responsible business.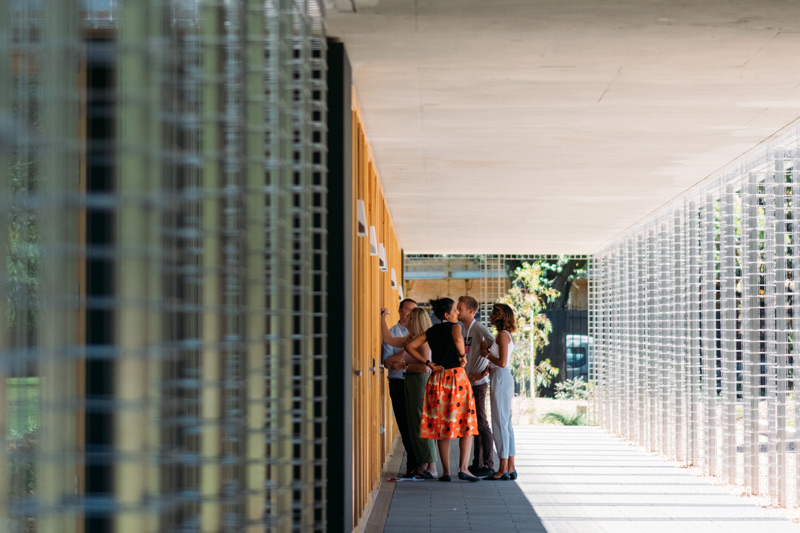 Curiosity finds opportunity
"Entrepreneurship is really a mindset of curiosity," the learning never ends, and neither do the questions. Ishani says she owed much of her experience to the strong sense of curiosity that allowed her to leap from one opportunity to the next. "I never thought of myself as an entrepreneur, I was just always looking for people who challenged my thinking and gave me another perspective to think from."
And what satisfied her curiosity was diversity of opinions in her classes at the London Business School, where 80% of the class had an international background. The high level of skills and acumen immersed Ishani with insight, especially into how the context of culture can change almost everything about a business.
If it's going to be troublesome, it must be good
"Back then start-ups weren't cool, people were risk averse," when Ishani tried to bring the first carbon trading and advisory firms to India by pitching to her then Professor at Columbia Business School who was also the CEO of the firm. There wasn't the same support for her decision that you would typically find today. The concept of buying and selling permits and credits to reduce emissions of carbon dioxide was still new territory in the sustainability scene. It was her first and biggest entrepreneurial leap.
Despite not knowing much about navigating the business culture in India, she saw the potential for the idea and was determined to do it. Not only did she have the strong belief that what she aimed to do was right, but she was also comfortable with going into this new territory because she was familiar with the unknown. "But my parents didn't approve of this decision, especially since I was taking a massive cut-off from my salary and signing on to something called start-up options. Everyone was questioning my decision," says Ishani.
Setting up the business was hard, there was the expensive office rent and dealing with different cultural norms, in addition to navigating the ministries and policies in India. Within the year and a half that the business grew from a start-up to a big company, Ishani had gained what felt like a decade's worth of learning. Looking back, it was worth pushing all the boundaries, "I regret none of it, it's brought me to where I am."
Keep a healthy relationship with yourself
"It was a big year of learning for me, and I have used those learnings again and again as I set forth on other entrepreneurial and intrapreneurial opportunities." In addition to starting and scaling businesses, Ishani's personal life was also making big leaps and she was also balancing all the growth of the company whilst supporting her team and trying to keep herself centered. But the time came when she had to separate herself from the business, "I left the company shortly after it hit success."
She knew her job was done and was off to solve the next problem. But the key to her resilience through this time was consistent reflection and meditation. "It's important to keep a healthy relationship with yourself, and to keep learning from your mistakes." This allowed her to always have perspective and to separate herself from the business; a most difficult yet valuable lesson for entrepreneurs.
With this perspective in mind, Ishani moved on to mentor businesses on strategic innovation, managing growth and leading teams through transformation. These businesses had a social and environmental mission alongside the commercial goals, and it's this challenge that brought the joy of creativity and risk-taking to Ishani's career. Other stints included setting up the alternate energy division for the region with a massive US power company, running the regional offices of an impact fund and also running her own incubation platform including angel investing.
Give Back
"I was born in Calcutta, India. I think a lot of my journey and interest in social impact and environmental impact goes back to my heritage and what I observed growing up." Having personal insight into India, where more than 20% of the population has no access to electricity, Ishani saw the opportunity to give back meaningfully as she realised early on that money in itself can't give meaning.
After moving back to Australia, Ishani saw an opportunity to share her insights with businesses and start-ups here. At The Difference Incubator (TDi), Ishani helped bring businesses back into social enterprise through a strong and sustainable business model via their incubation program.
When asked how Australia compares to the other places that Ishani has experienced, she points out the changing nature of the nation. The comfort and stability in Australia is a factor that has slowed down the progress of our start-up scene, "we are so lucky here, that there's no need for survival, no need to push the boundaries." There's "seemingly" no confronting difficulties that make us risk prone and likely to change things with urgency. "In saying so, we are at an inflection point and there's a demographic change that understands the impact of business beyond national borders, so there's a slow shift" and growing interest in entrepreneurship is initiating dynamic and meaningful businesses.
"There's also an understanding that we do have real problems within our borders that need solving – be that energy/power, water, health/disability, education and well-being of our children. These are massive opportunities for our entrepreneurs and I am seeing see more and more enterprises seeking to tackle them which is very exciting!"
–
Wade Institute of Entrepreneurship is a leading centre for entrepreneurial education. We deliver programs to accelerate learning, creation and connection.