"Physio, like entrepreneurship, is all about clinical reasoning and thinking," he said.
"You have to keep an open mind, know where the problem lies, and then build a solution for fixing it. With Recubit we have developed a product that can change the lives of many people every day. What we do is equip therapists with a robotic powerful aid that acts as a third arm, which means we can optimize patient care, allowing more patients to access more therapy, and we can also reduce the risk of physical injury and strain to the therapists."
The ReCubit prototype device is currently being trialled in Melbourne hospitals, and has strong potential commercial application in the healthcare sector due to its ease of use, affordability and portability, including in home-based care applications.
On Monday 20 November 2017, they won $20,000 at the 2017 HealthTech Innovation Challenge from the Graeme Clarke Institute for Biomedical Engineering. This will enable the Recubit team to accelerate their go to market strategy with further research and development trials (pictured below – photo courtesy of Lauren Sosdian).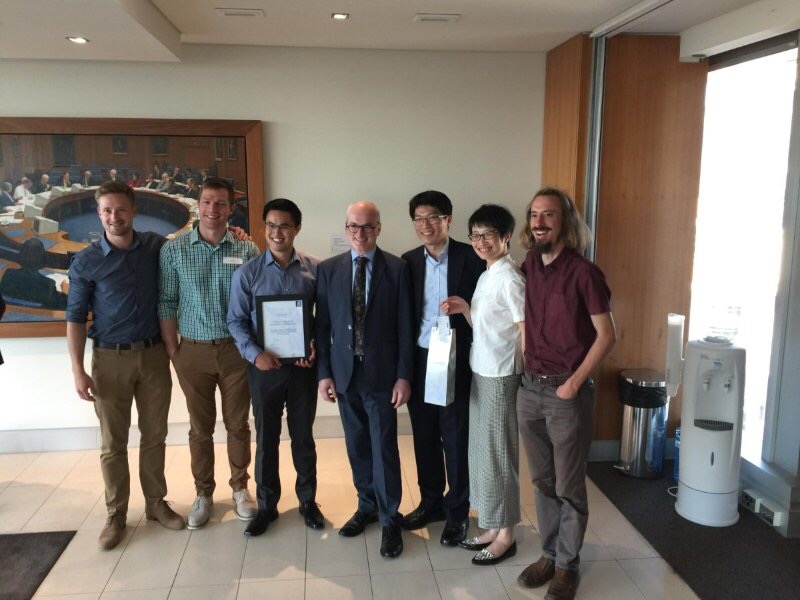 The potential export market for this home-grown HealthTech product is huge, with stroke incidence recorded at every 40 seconds in the US (800,000 stroke occurrences annually, 2200 per day), and globally an estimated 15 million people suffering stroke (of which 5 million die annually). Stroke is currently the leading cause of long-term disability according to a recent report by the US Centres For Disease Control and Prevention.
Automation devices like this provide a strong proof point for how Victoria can successfully collaborate and commercialise research to bring technological health innovations to the world.
Recubit team member and TrAM PhD candidate Justin Chun-Mun Fong concurs: "Research is most valuable when it leaves the laboratory. ReCubit is a way to make this transition to commercial viability, and to have a real impact on the lives of stroke survivors in Australia and around the world."
Victoria is uniquely positioned as a HealthTech hub, as it is home to one of the world's largest biotechnology and research clusters, consisting of global and local companies known for their excellence and ability to produce outstanding world-class products.
The Recubit team is testament to Victoria's growing startup ecosystem that is reliant on diversity of teams to seed the startups that can, with the right ideas, markets and funding, successfully commercialise and scale their products and services around the world.
The ReCubit team is already kicking big goals, having been accepted as a national finalist in the prestigious Medtech's Got Talent competition in Melbourne on November 30, and recently pitching their startup to a panel of high-profile investors at the University of Melbourne's Wade Institute Showcase Pitch Night where they took out the MYOB People's Choice Award and received strong commendation from judge Shane Galligan of Credit Suisse.
–
Wade Institute of Entrepreneurship is a leading centre for entrepreneurial education. We deliver programs to accelerate learning, creation and connection.