Claire Bremner is used to stepping outside of her comfort zone.
The 27-year-old grew up in Hobart but took herself on a working holiday to Bristol in the UK when she was just 19. "I worked in hospitality and had to try to make ends meet, which was challenging in all sorts of ways," she says.
Claire later studied in Shanghai as part of her arts degree in international relations, and also travelled throughout Central and South America before taking up a Master of Management course at the University of Melbourne.
The overseas experiences helped broaden Claire's idea of "what I thought was possible" and it is little surprise that she ended up switching to the University of Melbourne's one-year Master of Entrepreneurship program, delivered at the Wade Institute of Entrepreneurship.
"The Master of Management program was focused on a more corporate path and I wanted my future role to be something that I created," Claire says. "So I applied for the Master of Entrepreneurship program because it was more in line with what I wanted to do and was thrilled when I was accepted."
Not only was Claire accepted, but she was also awarded a $25,000 Neville and Di Bertalli Scholarship, which supports students starting businesses and innovating in the field of agriculture.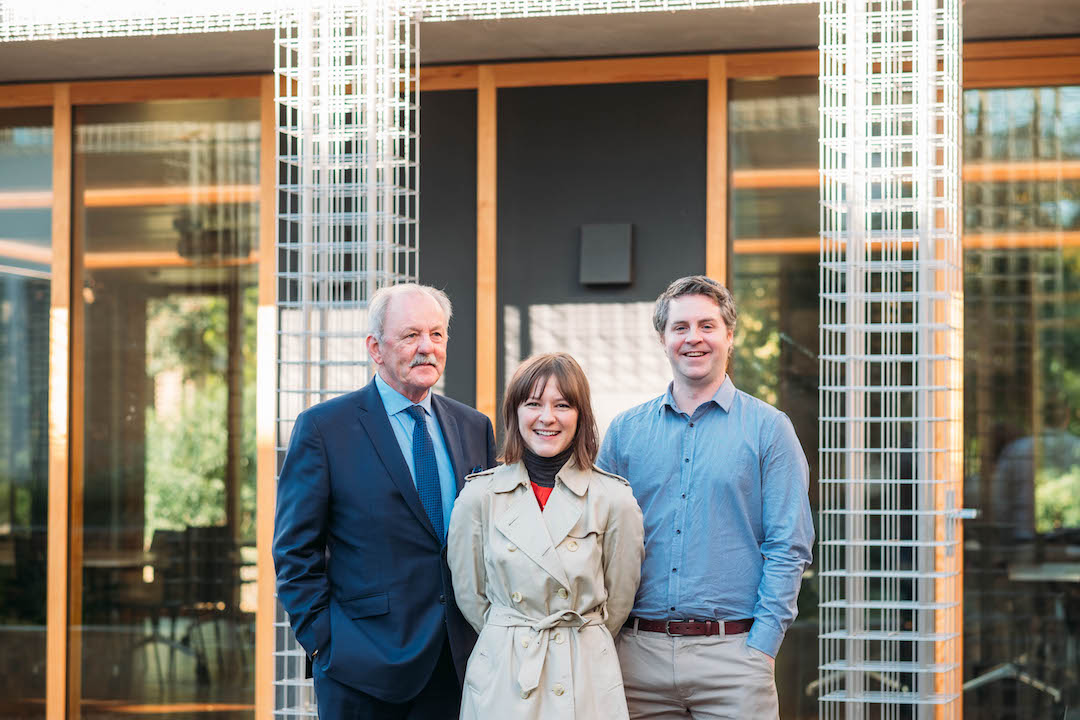 From left: Scholarship benefactor Neville Bertalli with recipients Claire Bremner & Paul Lockwood (2018).
Claire is halfway through her masters degree, certain she wants to focus on Tasmania's agribusiness sector through the commercialisation of local resources. "I want to do something with the commercialisation of food exports from Tasmania into Asian markets," Claire says. "It could be taking seaweed, or Tasmanian kelp, and packaging that into an exportable commodity."
"It is still in its infancy, but I definitely want to take the natural resources we have in Tasmania and exploit them in a sustainable way. So my idea is for it to be commercial, in that it helps the Tasmanian economy, but environmentally beneficial at the same time."
The Master of Entrepreneurship program is delivered at the Wade Institute, which was set up by entrepreneur and benefactor Peter Wade some three-and-a-half years ago. Wade Institute General Manager Georgia McDonald says the Master of Entrepreneurship aims to address Australia's relatively low rate of commercialisation in the startup space, while providing economic opportunities for the younger generation.
"Australia has the brains and the resources to create start-ups, but we don't necessarily have the same level of commercialisation of businesses that they do in other OECD countries," Ms McDonald says.
"Australia is still seen as rather risk-averse, whereas in the US, lots of people are creating their own businesses and entrepreneurship is a big part of their culture. So the idea is to take really exceptional people in Australia and give them the support they need to be successful in the start-up world."
The program is in its third year and only 30 to 40 people are accepted each intake. "We know that nine out of ten startups currently fail, but if we can help get that rate down to four or five out of ten we will be happy," Ms McDonald says.
She explains when assessing applicants, her team looks for students that want to start values-based businesses. "We do get applications for startups that aren't a great match, such as online gambling dens, and that is obviously not what we're interested in," she says.
"We want to support people that are creating products that will be doing great things for society."
When interviewing applicants, Ms McDonald and team also look for a suite of personal traits that will act as a ballast in the stressful world of entrepreneurship. "We look for a level of confidence with ambiguity," Ms McDonald says. "I know everyone is uncomfortable with ambiguity to various degrees, but people who are highly structured and need that structure may struggle.
"So we ask people about how they handled various challenges in their life, did they take themselves off overseas, for example, and what that tells us is their level of self-awareness."
Interviewers also look for an appetite for risk. "They don't need to be very advanced in their startup or have even launched a startup previously," she says. "But they do need to have a desire to plant a flag, give it a crack and do something a little bit different."
Finally, there is the trait of humility. It may not be a word you would associate with startup culture, but Ms McDonald says it was often a defining trademark of a successful entrepreneur. "People with humility will often not be concerned about making a fool of themselves," she says.
"They realise they may look like a bit of an idiot by taking a risk and that they may fail, but they're prepared to do it anyway."
Originally published via The Weekly Times.
–
Wade Institute of Entrepreneurship is a leading centre for entrepreneurial education. We deliver programs to accelerate learning, creation and connection.