Nick Crocker has held many different seats at the startup table. He's founded companies which went on to secure investment and global acquisition deals. He's worked in product management, strategy and operations for multinational health and lifestyle brands. Today, Nick sits investment-side as a partner at leading Australian venture capital firm Blackbird Ventures while also running Startmate, one of the country's best tech accelerators.
Having seen what Nick has of the startup world, it's no surprise he comes with a fair dose of real-talk for emerging entrepreneurs. He recently joined us at Wade to share his advice with the current University of Melbourne Master of Entrepreneurship cohort.
Here's three solid tips from Nick which have stayed with us.
1. Never shout a VC coffee
It's true that good relationship management skills are important for succeeding in entrepreneurship. But according to Nick, it's not what you should be focusing on if you're seeking investment.
"The best impression you can build is to bring us a great business study that you have done without us. The idea that you need to build a relationship, I think it's a false thing to chase."
Is this why Nick feels the age-old coffee invite is flawed? "You are the starving entrepreneur, they're the ones with tens of millions of dollars. Never shout a VC coffee – just build a great business, don't worry about us for the most part."
Although, it's by no means just a numbers game to Nick. He says it's more about shifting the perspective on who's bringing value when it comes to the relationships between investors and entrepreneurs.
"We [investors] aren't players in a game, we are coaching a game. We are courtside. The best entrepreneurs have a vision they want to achieve and they come to us and they say 'this is how you can come and plug in to this achievement. Take it or leave it, I'm going to do it with or without you.' That's the dynamic that you want to bring to the relationship."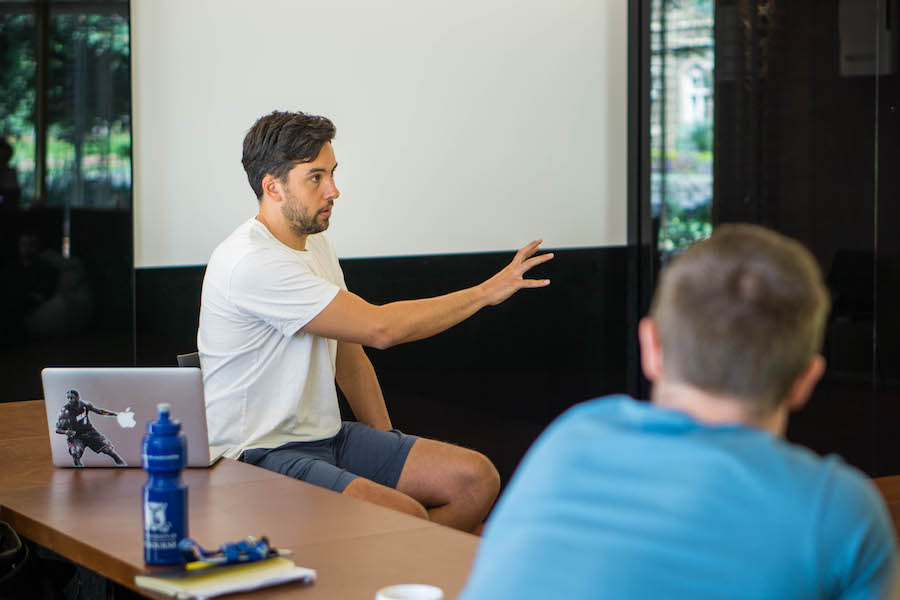 For Nick, ultimately the entrepreneur and their business are the essentials, not the VC. "It's only a form of capital. You are the entrepreneur. We will provide capital and we will help as much as we can, but it's you who succeeds in the game…Don't put VCs at the centre of your plan."
"If you bring us something very fascinating and teach us a part of the world we haven't observed or understood, that's what gets us really excited."
2. It feels like being punched in the face
Nick isn't one to sugar coat the hustle and grind. Being an entrepreneur is tough work, and founders need to be prepared for rapidly changing highs and lows.
"It's brutal to be a founder. It's like being punched in the face constantly. By lunch time, you're pretty sure the company is dead. By afternoon tea you're going to IPO two years from now, by 3pm you're going to get acquired, then by 4pm your Head of Engineering is leaving… and that's just one day! Then you go home and you wake up. Oh, and now another client's left because your product isn't good enough. You know, that's what it is. It's wild, so you've got to be up for that."
While the day-to-day realities of startup life can be harsh, Nick says starting a company should feel like more of a compulsion and less like a mental exercise. To sustain the ride, it's all about keeping the important things front of mind, like focusing on the rewards and the great sense of fulfilment that comes with making something meaningful of your own.
"I think the thing to remember about being a founder is the joy of it. You will build something from scratch and it will be your creation…that's the power, the incredible experience. It's such a rare thing."

3. Just get on with it!
If there's one message Nick makes crystal clear, it's that he's more excited by entrepreneurs that back themselves than those who are relying on backing from investment.
"The worst thing is when people say, 'when you give me money, I will go full-time on this…'. Then how much can you really believe in them?"
"Get into that mindset of 'I don't need to wait.' One of your key traits is that you're a fast learner. So, can you be the world expert in three to six months? Sure, why not? Just throw yourself into something. Don't wait for these gates of permission because they will never come. We want to help the people who are just doing and not the people who are waiting for us."
For Nick, the key to unlocking those gates is simple: "Don't wait for permission, I'll say. You're ready now. You're as smart as any of these other founders were at exactly at the same time. The difference is you just go and do it, and then figure it out along the way."
–
Wade Institute of Entrepreneurship is a leading centre for entrepreneurial education. We deliver programs to accelerate learning, creation and connection.